---
Our teaching goal is to equip our students with scientific expertise as well as research methods and skills, so that they can analyze problems in a self-organized manner and independently develop professional solutions in their later professional careers in schools, business, administration or in science.
---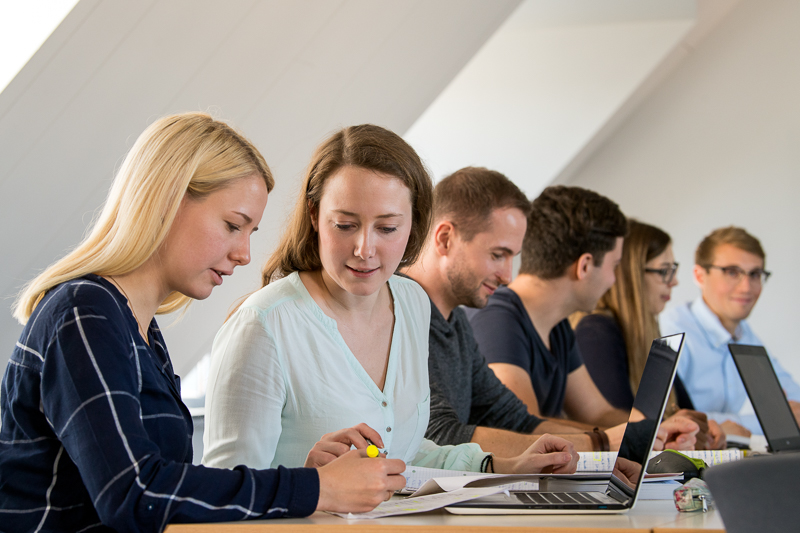 In line with the concept of the School of Education, large parts of our training in business and economic didactics are closely linked to practice through supervised school internships. In the first semester, students should ideally attend the modules "Theory and Practice of Business and Economic Education" and "TUMpaedagogicum - Enquiring and Reflecting Teachers' Tasks", which teach about the first fundamental models, theories and concepts in the field of economic education and didactics. During TUMpaedagogicum, students will also gain a wide range of insights into teachers' areas of professional activity beyond teaching. In the second semester, attending the module "Developing Business and Economic Education" is recommended. Building on the above-mentioned courses, this module provides an in-depth look at lesson planning (with new media). In addition, students will discuss and practice how to respond appropriately to students' questions and mistakes by means of exercises and video vignettes.
In the third semester, students are allowed to put their theoretical knowledge of the first two semesters into practice during the "Economic Education – School Internship". In comparison to the TUMpaedagogicum, the focus here is more on students' own planning, designing and lecturing lessons in the field of business and economics on an appropriate professional level (i.e. instruction should be based on a wide range of competences and requirements). Students select suitable methods as well as social forms and will thus create adequate teaching and learning conditions for the target group. They are able to act professionally with reference to scientific theories and models as well as formulate pedagogical justifications. Additionally, self-reflection plays a crucial role in students' professionalization process as a prospective teacher.
In the courses "Key Areas of Business and Economic Education" and "Issues & Research Methodology of Business and Economic Education", students will develop competences to be able to conduct empirical research and write their master's thesis in the field of Economic Education. Further, students will have here the opportunity to work directly with the staff members on research projects. In order to combine research, theory and practice, they will also receive small research assignments already during their school internship.
For students who are aiming to continue their professional careers in companies or in administration, we offer the modules "Human Resource Training & Management - Internship" and "Workplace Learning - Fostering Job-related Learning Processes in Business" with a focus on areas of activities outside school. Together with the very extensive elective module catalog in the Master's program in Business and Economic Education, students have the opportunity to gain further qualifications for activities in the operational and administrative fields.
Below, you will find an overview of our current modules in the field of Economic Education. All courses are offered in summer and winter semesters:
Elective modules:
Please register for the modules at the beginning of the semester in order to ensure optimal planning.