Vortrag Prof. Dr. Susanne Schwab

Interessierte Zuhörer am Symposium

Workshop Prof. Dr. Markus Gebhardt

Workshop Julia Bodensteiner

von links: Dr. Susanne Miesera, Stefan Schmidhuber, Julia Bodensteiner, Prof. Dr. Jacqueline Specht, Prof. Dr. Donna McGhie-Richmond, Prof. Dr. Susanne Schwab, Patrizia Weidenhiller
Slide 1

(Current Item)

Slide 2

Slide 3

Slide 4

Slide 5
Slide 1 of 5
"INKLUSION FÜR GROSSE" - 5. BAS!S-Annual Conference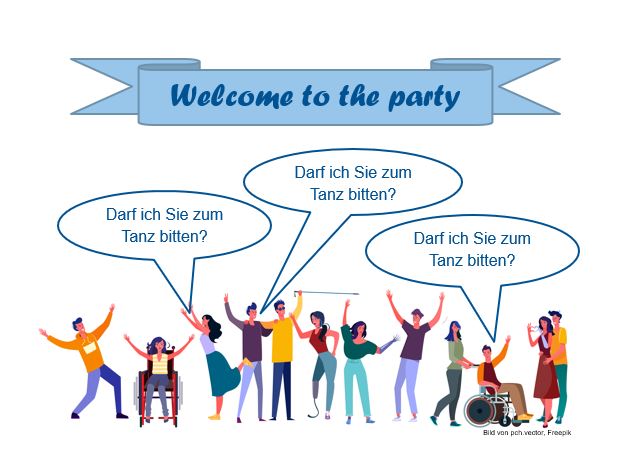 This year's BAS!S annual conference was held under the motto "INCLUSION FOR GROSS" and therefore focused on "Inclusion in subject didactics - secondary level I and II" and "Social and emotional learning in subject teaching".
In line with our motto, we offered a BIG range of topics, guests and formats:
Prof. Dr. Lisa Stinken-Rösner (University of Bielefeld) and Dr. Laura Ferreira Gonzalez (University of Cologne) gave the two keynotes. The topics of the keynote speeches and the workshops covered a spectrum from "Inclusion didactic networks in mathematics teaching", "Application of learning structure grids" to "Inclusive teaching at vocational schools" and "Support for pupils with psychiatric illnesses at secondary schools" to "Classroom management".
https://www.edu.sot.tum.de/edu/department/inklusion-in-der-lehrerbildung/bass-basiswissen-inklusion-und-sonderpaedagogik/5-bass-jahrestagung-am-02032023-an-der-tum/
Symposium on Inclusion at the TUM School of Education as part of Teach@TUM
The topic of inclusion is a very topical issue in education policy and affects all types of schools and teacher training universities.
On 08.10.2018, the Symposium Inclusion with high-ranking international researchers and guests took place as part of Teach@TUM. The event was opened by the Vice Dean of the TUM School of Education, Prof. Claudia Nerdel, and with welcoming remarks by Ministerialdirigent Walter Gremm from the Bavarian State Ministry of Education and Cultural Affairs, Head of Department III Primary, Middle and Special Schools.
Prof. Dr. Susanne Schwab, University of Vienna, Chair of School Education, gave an impressive keynote speech on attitudes towards school inclusion among Austrian and South African pupils, teachers and parents. The approximately 120 guests also had the opportunity here to provide further impulses and to link their own experiences with the expertise of the expert. Afterwards, the participants of the Symposium Inclusion could attend one of a total of five workshops. Prof. Susanne Schwab explained the topic "Diagnosis of special needs - challenges of labelling" win. Prof. Markus Gebhardt, Technical University of Dortmund, organised a parallel workshop on "Use and Limits of Learning Progress Diagnostics in the Classroom", where he addressed the online platform Levumi. Prof. Dr. Donna McGhie-Richmond, University of Victoria (Canada) and Prof. Dr. Jacqueline Specht, Western University in London (Canada) dealt with a group on "Inclusion in teacher education programmes". Stefan Schmidhuber, special needs teacher at the TUM School of Education, gave impulses from school practice on the topic of "Inclusion in everyday teaching - support possibilities through the MSD" in his workshop. Julia Bodensteiner, Berufsschule Adolf-Kolping München, and her group provided insights into "Teaching practice in dealing with heterogeneity".
The lunch break offered an informal professional exchange, for getting to know each other and for networking. Finally, in the afternoon, the two inclusion researchers from Canada, Prof. Dr. Donna McGhie-Richmond and Prof. Dr. Jacqueline Specht, took to the lectern to talk about "Inclusion in Canada - Beginning Teacher Study", where they provided a forward-looking view across national borders.
In the two following days, the staff had the opportunity to deepen individual topics and discuss new aspects in two workshops on "Inclusive Education". The question of how the topic of inclusion could find its way even more into our German, or Bavarian, educational landscape and how lived inclusion can succeed was always exciting in the international educational comparison. Contact: Prof. Dr. Claudia Nerdel and Dr. Susanne Miesera Technische Universität München Professorship for Didactics of Life Sciences Tel.: + 49 89 289 24311 susanne.miesera@tum.de