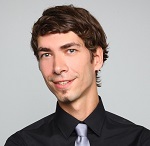 E-Mail:
alexander.groeschner(at)uni-jena.de
Academic Profil:
Prof. Dr. Alexander Gröschner was research assistant at the Friedl Schöller Endowed Chair of Teaching and Learning Research till September 2015.
Prof. Dr. Alexander Gröschner represented the Professorship Research on Teaching and Learning at the University of Paderborn from April 2015 to March 2016.
On 01.04.2016, Prof. Dr. Alexander Gröschner started his professorship at the Friedrich-Schiller University of Jena and now he is head of the chair "School Pedagogics and Didactics" of the Institute of Educational Sciences.
After his studies of Communication & Media, Educational and Political Sciences at the universities of Jena, Leipzig (Germany) and the MI College Limerick (Ireland) he received his Magister Artium (M.A.) at the University of Jena. Afterwards he received his Ph.D with a doctoral thesis about "Innovation as a Learning Task " with honors. From 2008- 2010 Alexander Gröschner investigated as PI the "Development of competencies in internships and practical learning opportunities". In his empirical habilitation project at the TUM School of Education (finished in the end of 2014) he also investigated effective components of teacher professional development, video-based teacher learning and teacher-student interactions in classroom discourse. He was visiting scholar at the Aalborg University (DK) und Stanford University (USA) and was guest professor at the Masaryk University Brno (Czech Republic).
In June 2013 he received the Ernst-Otto-Fischer Teaching Award for an innovative, online-based concept of "Video-based Peer-Coaching". In July 2014 he was further awarded with the TUM-Lehrpreis for an interdisciplinary project fostering student teachers' capabilities to learn to teach and reflect upon teaching practice by means of e-learning tools.
Research Interests:
Teaching and learning in the context of internships and practice-oriented learning opportunities
Mentoring and peer-coaching
Verbal and nonverbal communication in the classroom /student-teacher interactions
Video-based teacher professional development
Innovations in the educational system
Find me: